Our Building: An Interview with CSSB Construction Manager Verena Börschmann
CSSB Directorate and Office would like to thank Verena Börschmann, who has been managing the construction of the CSSB building since February 2012, for her hard work and dedication to this project. We wish her the best of luck in her new position.

The interview below was conducted in May 2016 by journalist Angela Grosse and published in the CSSB Inaugural Report.

What excites you about the management of this project?
Verena Börschmann: The biggest fascination for me has been implementing both the sophisticated functional and technical requirements of the CSS B scientists and the demanding design requirements of the building's architect.

This has not always been easy. By actively involving the users in the project, we have, however, been able to coordinate any necessary modifications to the design with the architect. In this way, we have optimized the building's utilization while preserving the architect's distinctive signature.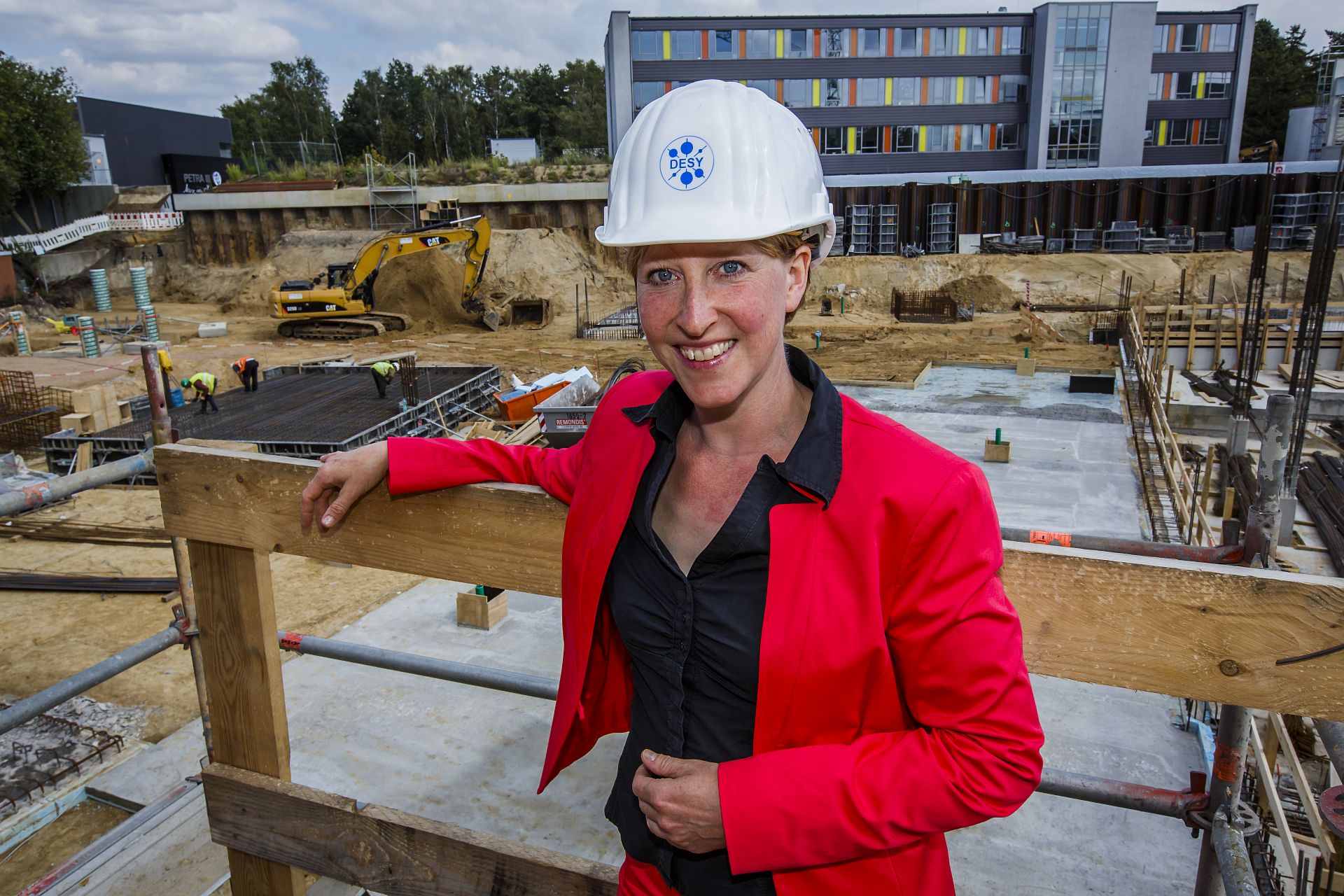 What were your biggest challenges?
Verena Börschmann: Personally, this build has been a challenge for me as I moved from an on-site supervisor role to the project manager position which is more office based but has increased responsibility. I am very happy that as a mother of two children, this role was given to me, even if it is only a short-term project. This "masterpiece" is important as it will enable my further development in the field.

An additional challenge was that this is a laboratory building with diverse technical requirements that must be fulfilled. I first needed to understand how a laboratory functions and what each individual scientist needs to successfully carry out their research.

How many trades, craftsmen and other construction experts have worked on this project?
Verena Börschmann: Looking back over the entire construction period, there have been between 70 and 75 different trades actively involved on the construction site. For each trade, we employ roughly five workers and one supervisor. This means that approximately 400 people will have worked on the building by the time it is finished in 2017. To ensure that the high demands of our users are met, I have also assembled a team of 25 experts who help make certain that the architect's plans can be realised effectively.

How do you coordinate this work?
Verena Börschmann: Everything begins with good planning, the implementation of which is continually controlled. At the very beginning, I created an overall schedule which describes the basic steps for the realisation of the project. Based on this, the architect then created an even more detailed schedule which monitors the implementation of tasks. This schedule includes all the project tasks such as: when the project planner must deliver blue prints; when the administration must issue calls for tender; and when certain craftsmen can begin working. This schedule is tightly monitored to see if we are keeping within the given time and cost framework.

Which challenges do you foresee?
Verena Börschmann: The initial operational phase when all the research groups begin moving into the building will be very exciting. Four months have been scheduled for this. I think we will need this time to make sure that everything works smoothly. The building's climate control alone is highly complicated and the specifications for the safety level S2 labs are just as complex.
What are you going to do once the building is in operation?
Verena Börschmann: I am following the construction activity in and around Hamburg very closely. In the city, there are many exciting projects – and I would like to be involved in one of these in a supervisory position. In the future, when I pay a visit to "my CSS B", I hope to see that research has been brought to life.